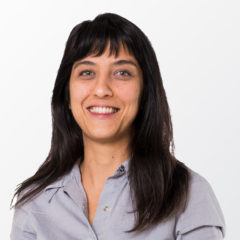 tugce.tugran[at]milieu.be
Areas of expertise
Migration and ethnic minorities in Europe
Environmental politics and social entrepreneurship
Quantitative & qualitative data analysis
Project management
Research & analysis
Education
MA, Social and Cultural Anthropology, Katholieke Universiteit Leuven, Leuven (BE)
BA, International Relations, Bilgi University, Istanbul (TR)
Languages
Tuğçe is a social researcher at Milieu. After studying international relations in Istanbul, she worked as project manager in a research company specialised in qualitative and quantitative studies in MENA countries. There, she coordinated and managed large scale, multi-country surveys as well as longitudinal studies on issues such as displaced people, youth and minorities in crisis areas. She then came to Belgium to pursue a master's degree in Social Anthropology. After finishing her studies, she worked for Greenpeace with the Transport Policy Director on a campaign for cleaner vehicles and reducing CO2 emissions from passenger cars.
Project management, qualitative and quantitative research, environmental politics and social entrepreneurship are among the fields in which Tugce has been active over the years.  She is interested in sustainable economic models, transition to clean energy systems, animal welfare, architecture and urban planning.
She speaks English and French fluently and is in the process of learning Dutch. Her mother tongue is Turkish.