Linda De Keyser
Senior Advisor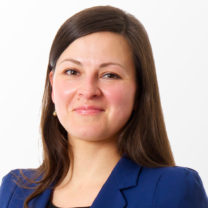 Areas of expertise
Legal research, data collection, analysis and legal writing
Fundamental rights & justice
Infringements of EU law
Project management
Case-law analysis
Education
MEconSc, European Economics and Public Affairs , University College Dublin, Dublin (IE)
LLM, European and International Law, University of Amsterdam, Amsterdam (NL)
Qualification as Lawyer, University of Latvia, Riga (LV)
Languages
Latvian, English, Russian, Dutch
Linda De Keyser is a Latvian lawyer, working at Milieu as a Senior Legal Advisor. She joined Milieu in February 2013 and, since then, contributes to research, drafting of studies, and quality assurance of projects on matters of Justice and Fundamental Rights. She has worked on projects concerning Member States' policies on children in judicial proceedings, children with disabilities, anti-discrimination and trafficking in human beings. She has also contributed to providing data collection and research services on fundamental rights issues to the EU Agency for Fundamental Rights.
Prior to joining Milieu, Linda acquired professional experience from both European and national institutions. She trained at the Legislative Division of the European Central Bank and the Directorate for Legislative Acts at the European Parliament, where she drafted, edited and translated EU legal acts. Before that, she worked as a Legal Advisor and the Deputy Director at the Ministry of Justice in Latvia, researching, analysing and drafting reports on draft legislation in the areas of Justice and Home Affairs, infringement proceedings initiated against Latvia, and cases of national importance brought before the European Union Court of Justice.
Linda holds a Master's degree in European and International Law from the University of Amsterdam, the Netherlands, and a second Master's Degree in European Economics and Public Affairs from the University College Dublin, Ireland.