Katalin Adamis-Császár
Senior Manager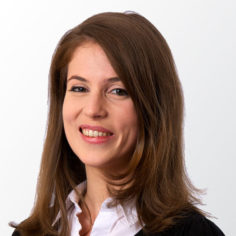 katalin.csaszar[at]milieu.be
Areas of expertise
European Law
Legal & policy analysis
Project management
Fundamental rights
Conformity checking
Education
MA, EU International Relations and Diplomacy , College of Europe, Bruges (BE)
MA, Central and Eastern European Studies , University of Reims, France (FR)
Doctor of Law, University of Debrecen (HU)
Languages
Hungarian, French, English
Katalin Adamis-Császár is a Hungarian national, working as a senior legal advisor at Milieu since June 2010. She holds a Master's degree from the Law Faculty of the University of Debrecen and a Master's degree in Central and Eastern European studies from the University of Reims. In 2008-2009, she undertook studies on International Relations and Diplomacy, at the College of Europe's Bruges campus.
Katalin has over five years of project management experience and since 2010, she has been involved in the quality assurance of many complex multi-country projects. Her main areas of expertise include fundamental rights and civil and criminal justice, which she has obtained through related project work, including: project manager of the EU Fundamental Rights Agency's (FRA) framework contract called 'Data Collection and Research Services on Fundamental Rights Issues' which involves the management of a team of Hungarian national experts, who provide specific information to FRA on particular issues concerning fundamental rights; project manager of a European Commission study 'Knowledge-based analysis and policy advice in the antidiscrimination field and the EU 2020 Strategy', which assesses the situation of discrimination in the EU Member States and analyses the feasibility of mainstreaming discrimination into the EU 2020 Strategy.
Prior to joining Milieu, Katalin was an intern at the Hungarian Ministry of Local Authorities and Territorial Development, where she dealt with the implementation of the acquis communautaire. In 2009, she was a trainee at the European Commission, Directorate General for External Relations, in the unit responsible for the sectoral coordination of the European Neighbourhood Policy.