Brittni Geny
Associate Senior Advisor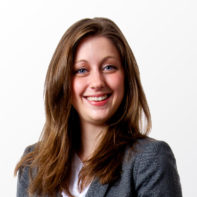 brittni.geny[at]milieu.be
Areas of expertise
EU policy analysis
International relations & policy
Corporate strategy
Tendering procedures
Administration
Education
MSc, International Business, KEDGE Business School, Bordeaux (FR)
BA, International Studies (Management), Pepperdine University, Malibu, CA (USA)
BA, French Language, Pepperdine University, Malibu, CA (USA)
Languages
Brittni is an American national who joined Milieu in October, 2014. She is involved in coordinating the company's tendering procedures and also contributes to project and proposal drafting for EU Instutions such as the European Parliament, EIGE and DG JUST.
Holding a Master's degree in International Business from KEDGE Business School in Bordeaux, France, she specialises in geopolitics, corporate strategy, finance and supply chain. Her thesis explored gender differences in risk aversion among top executives.
Brittni worked with start-up companies in the US, specialising in entrepreneurship and psychometrics and interned for the Suzanne Dellal Centre in Tel Aviv, Israel and with the Coca-Cola Company headquarters in Atlanta, GA.