Monika Malecka
Administrator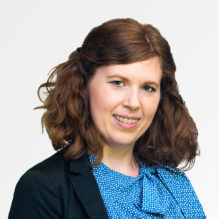 monika.malecka[at]milieu.be
Areas of expertise
Event management
Administrative support
Communications
Project management
Research
Education
BA, Journalism and Social Communication, University of Wrocław, Wrocław (PL)
Languages
Monika Malecka is Polish national who has taken a role of Administrator at Milieu in May 2018. She studied Journalism and Social Communication at the Wroclaw University before moving to London where she spent the last 10 years.
Her main areas of expertise include events (both organization and execution) which she obtained working at National Portrait Gallery and British Library. She was a part of the team that planned and executed (among many others) the Breakfast for Prince William and Duchess Katherine, dinner for Prince Andrew, afternoon tea event for around 600 people during the Lucien Freud Exhibition at the National Portrait Gallery. She has planned and executed conferences, workshops for up to 260 people in the Knowledge Centre as well as events for up to 500 people in the main building of the British Library. Her expertise in planning and executing events comes also organizing Folkowisko Festival since 2011 – 3 day event for up to 2000 people that brings together the music, the folklore, the history and the tradition of south-east Poland.
She is responsible for all the travel/accommodation arrangements for all the artists, planning and coordinating all the workshops and talks as well as taking care of all the artists during the festival. The festival has been recently awarded EFFE title of one of the best festivals in Europe.
Monika also has very strong organizational, administrative and analytical skills gained through various managerial and administration roles.