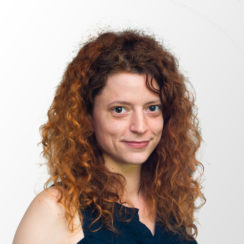 marine.briard[at]milieu.be
Areas of expertise
Environmental law
Maritime law
Human rights and criminal law
Compliance assessments
Legal and policy research
Education
PhD, Public and European Law, Faculté de droit et de sciences politiques, Université d'Aix-Marseille, Marseille (FR)
Master's degree in European Law, Faculté de droit, de sciences politiques et de gestion, Université de Strasbourg, Strasbourg (FR)
Master's degree in European and International Law, Stockholms Universitet, Stockholm (SE)
Bachelor's degree in Law, Faculté de droit, de sciences politiques et de gestion, Université de Strasbourg, Strasbourg (FR
Languages
Marine Briard is a French national, working as an Analyst at Milieu since March 2018.
Ms Briard holds a Master's degree in European Law from Strasbourg University, and a PhD in Public and European Law from Aix-Marseille University. She wrote her PhD thesis on the influence of international soft law on European law and policies in economic, environmental and social fields. Her thesis received the European Prize for Best Thesis from Aix-Marseille University. During her PhD, she lectured in European Law and Finances, French public law, and comparative constitutional law at the University of Strasbourg, both at the Bachelor's and Master's levels.
As a Communications Officer at the Institute of Preparation for General Administration, Ms Briard worked actively on the organisation of conferences and workshops. Her previous experience also includes a five month traineeship at the Secretariat General of the European Commission, where she worked on budgetary and communication issues. Ms Briard worked on the discharge procedure, the monitoring of the DG's management plans, and the European Parliament committees on budgetary control and budgets. Her academic research and teaching experience has contributed to a strong track record in European law and policy research, particularly in the field of economic, financial and environmental policies.