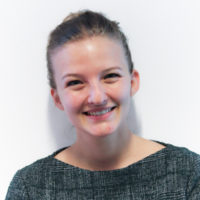 lucille.labayle[at]milieu.be
Areas of expertise
International Relations
Marine Law
Evaluation
Data collection
Qualitative & quantitative research
Education
Master "Gestion des Mers et des Littoraux", Université de Montpellier, FR
Master d'Institut d'Etudes Politiques, « Bordeaux International Relations Degree », Sciences Po Bordeaux, FR
Bachelor of Economic and Social Studies in Politics, Cardiff University, UK/ Sciences Po Bordeaux, FR (double-degree).
Languages
Lucille is a French national who joined Milieu as a Marine Policy Researcher in September 2019. She holds a joint degree in economic and social studies from Cardiff University and Sciences Po Bordeaux and a master's degree from Sciences Po Bordeaux in International Relations. Her specific interest for marine policy also led her to pursue another Master's degree in Marine and Coastal Management in Montpellier.
She is very familiar with international and European maritime affairs as she dedicated her final year thesis in Bordeaux to a comparative study of the U.S. National Ocean Policy and the Marine Strategy Framework Directive.
Prior to joining Milieu, Lucille was part of a research team as a trainee to work on the MarhaGouv project, a specific branch of the Life programme Marha, focusing on the issue of governance and the conservation of habitat within the French Natura 2000 network in marine areas. She gained experience in evaluation, qualitative and quantitative research and data collection.