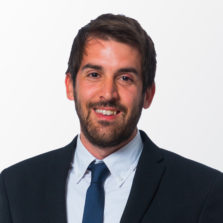 guillermo.gea[at]milieu.be
Areas of expertise
Environmental policy
Energy and climate change
Implementation and compliance assessment
Research and analysis
Education
MSc, Environmental Sciences, University of Murcia, Murcia (ES)
Master degree on Environmental Sanitation, University of Ghent, Ghent (BE)
Languages
Spanish, English, French, Portuguese
Guillermo is an environmental scientist and policy officer with over three years of experience in the field of aquatic ecosystems, energy and environmental policy.
He joined Milieu in November 2017 to work on the Framework Contract with the European Commission to support the implementation of the Marine Strategy Framework Directive (Marine Directive). His main task is to coordinate expert consortium's input for assessing Member States compliance on reporting obligations related to the Marine Directive and provide advice on how to improve Member States' performance on these measures.
He previously worked for the European Environmental Bureau, a Brussels-based NGO, on policy research and advice on energy, water management and climate change topics. He also worked on fundamental research, monitoring and reporting of water bodies under the Water Framework Directive at the University of the Azores in Portugal.
Guillermo is a Spanish national. He holds an Masters in Environmental Sciences from the University of Murcia, which included a sojourn at Ghent University specializing on Environmental Sanitation.