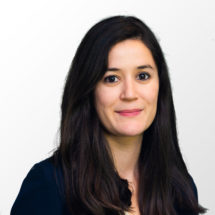 fanny.angevin[at]milieu.be
Areas of expertise
Renewable energy
Biodiversity protection
Water law
Legal and policy research and analysis
Conformity checking
Implementation studies
Education
Certificat d'Aptitude à la Profession d'Avocat (CAPA)
Environmental Law Master's Degree, University of Paris 1 the Sorbonne & Paris 2 Assas, Paris (FR)
International and European Law Master's Degree (LL.M.), Public International law track, University of Amsterdam, Amsterdam (NL)
Bachelor's Degree in French and Common Law, University of Toulouse 1, Toulouse (FR)
Languages
Fanny Angevin is a French national, who joined Milieu as a Legal Advisor in April 2019.
She is a qualified French lawyer and holds a Master's degree in Environmental Law from the University of the Sorbonne and an LLM in International and European Law, specialising in Public International Law, from the University of Amsterdam. She wrote her Master's theses on financial security in the Nagoya Supplementary Procotol for the University of Amsterdam and on the Environmental Liability Directive for the University of the Sorbonne.
Prior to joining Milieu, Ms Angevin worked as a sole practitioner at the Lille Bar in energy and environmental law both at EU and French level. She notably advised international clients on energy and climate law in France and related competition law issues, lead comparative legal analysis on marine renewable energy and conducted conformity checking for national transposition of EU Directives and implementation studies in environmental law for Milieu.
Before this, Ms Angevin also worked for law firms specialising in environmental law and renewable energy in Paris and Lille. There she advised clients in energy law (energy projects audits, hydroelectricity, solar energy, wind energy, competition law related cases), environmental law (water law, ancestral rights to access water, ecological continuity issues, biodiversity law and various land protections related with projects presented by clients) and access to public information cases. She also represented clients in front of the Administrative French Courts.
During the course of her legal qualification, Ms Angevin interned at the Court of Justice of the European Union in the Cabinet of Monsieur le Juge Popescu, the Romanian Judge at the General Court, where she contributed to the handling of competition law cases pending in front of the Court. She also interned for Deloitte Sustainability Services and worked on projects for DG Environment and DG Energy on the Environmental Liability Directive and civil liability, financial security and compensation claims for offshore oil and gas activities.
Today, Ms Angevin focuses her practice at Milieu on energy and environmental projects, with a particular focus on the development of renewable energy, water law and biodiversity protection.