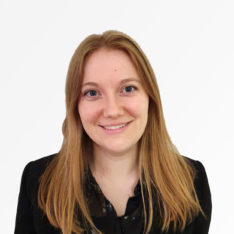 camille.borrett[at]milieu.be
Areas of expertise
Qualitative & quantitative research
Data analysis
New technology
Cohesion policy
Education
MA, European Affairs, Sciences Po, Paris, FR
MA, International Relations, University of East Anglia (UEA), Norwich, UK
BA (Hons), International Relations and European politics, University of East Anglia (UEA), Norwich, UK
Languages
Camille Borrett is a British and French national, who joined Milieu as an Analyst in January 2020. She holds a Master's degree in European Affairs from Sciences Po Paris and a Master's degree in International Relations from the University of East Anglia (UEA).
Prior to joining Milieu, Camille co-founded the non-profit organisation 'DataMine Europe ASBL', through which she acquired data science skills, notably in web scraping, Natural Language Processing (NLP), machine learning and data visualisation using the programming languages Python and R. Her early achievements included an automated seat projection for the EU elections and a large-scale media text mining analysis.
Camille has been a trainee in the East of England Brussels' Office and a Blue Book trainee in the European Committee of the Regions (CoR) in Brussels, where she specialised in Cohesion Policy. She also worked in the German Institute for International and Security Studies (SWP) in Berlin on a study on Brexit and EU agencies, which involved qualitative and quantitative data research and collection.