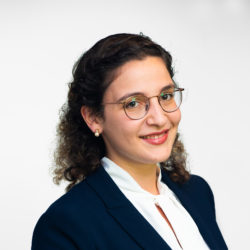 argyro.kepesidi[at]milieu.be
Areas of expertise
Commercial law
Oil and gas law
Suistainable development
Research & analysis
Policy analysis
Education
Phd Candidate, National and Kapodistrial University of Athens, Athens (GR)
LLM, Oil and Gas with Professional Skills, University of Aberdeen, Aberdeen (UK)
LLM, Commercial Law, National and Kapodistrial University of Athens, Athens (GR)
Certificat de droit transnational, University of Geneva, Geneva (CH)
Bachelor in Law, National and Kapodistrial University of Athens, Athens (GR)
Languages
Argyro Kepesidi is a Greek national working at Milieu since December 2018. She holds a Bachelor Degree in Law from the University of Athens and two Master's degrees from the University of Athens and the University of Aberdeen in Commercial Law and Oil and Gas Law respectively.
Ms Kepesidi has a specific interest in issues of environmental, energy and maritime legislation. She is very familiar with the contractual relationships governing the maritime industry and has an overview of both continental and common law. She has developed an interest in the initiatives connected to sustainable development in the sector of transportation as well as energy production and distribution.
Prior to joining Milieu, Ms Kepesidi trained as a lawyer in Greece (specialised in matters of Corporate, Administrative and Maritime Law) and still is a member of the Piraeus Bar Association. In 2018 she was a trainee at the European Commission, Directorate General for Energy, in the unit responsible for Security of Supply and was mainly involved in projects relating to HSE regulation in the oil industry and the European-Russian Relations connected to the gas supply. She has published two articles titled 'Rigs-to-Reefs: a place for it in the British waters?'  and 'Commercial implications of the Humanitarian Mediterranean Crisis' while she is currently writing her Phd on legislation relating to pollution from offshore installations. She is fluent in Greek, English and French.