Grazia Alessandra Siino
Senior Advisor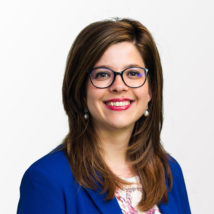 alessandra.siino[at]milieu.be
Areas of expertise
Human Rights law
Gender issues, migration/asylum and discrimination
Project management
Legal and policy research and analysis
Education
PhD, Law and Policies of the EuroMediterranean Region, Kore University, Enna (IT), International Institute of Human Rights – René Cassin, Strasbourg (FR)
Law Degree, University of Palermo (IT) / University of Salamanca (ES)
Languages
Italian, English, French, Spanish
Grazia Alessandra Siino is an Italian national, working as a Senior Advisor at Milieu since January 2019. She holds a Law Degree from the University of Palermo and a PhD  in Law and Policies of the EuroMediterranean Region from the University of Enna. During her studies, Alessandra spent an academic year at the University of Salamanca in 2007/2008 and a semester at the International Institute of Human Rights René Cassin in Strasbourg in 2012.
Alessandra is specialised in human rights law. Her main areas of expertise include discrimination on grounds of "race", ethnic/national origin, colour, citizenship, religion, language, sexual orientation and gender identity as well as gender issues, including violence against women, and human trafficking.
Prior to joining Milieu, Ms Siino worked for the Council of Europe in Strasbourg from 2012 to 2018. During her time at the European leading human rights organisation, Alessandra carried out legal and policy researches for two human rights monitoring bodies, the European Commission against Racism and Intolerance (ECRI) and the Group of Experts on Action against Trafficking in Human Beings (GRETA). Furthermore, she was a Project Officer for the SIDA funded project `Preventing and Combating Violence against Women in Ukraine`, and subsequently a Senior Project Officer for the EU-CoE funded projects `Preventing and Combating Human Trafficking` and `Preventing and Combating Discrimination against LGBTI people` in the Balkan region.
Throughout her career, Alessandra has also done consultancy work. In particular, in 2017, she was a consultant on human rights for the Interministerial Committee on Human Rights (CIDU) at the Italian Ministry of Foreign Affairs in Rome where she carried out researches on topics such as business and human rights and contributed to preparing the Italian Government`s replies to the United Nations human rights monitoring bodies` questionnaires.
In her early career, Alessandra was a trainee at the Ministry of Economic Development in Rome and at the Italian Embassy in Mexico City.